The Camposol Residents Association
Although in being for some years as an ad hoc organisation the Association formally adopted its constitution as a registered voluntary organisation in the summer of 2006. (Reg No 7943/1, CIF No : G73369167) It is dedicated to the development and well being of Camposol in Murcia. This township is now over ten years old and has some 5000 dwellings.
The development has a wide range of nationalities, Dutch, Belgium, Germans, Norwegians, French, and Spanish but is primarily British. Many Brits live here permanently with others owning holiday homes. This site enables everyone and particularly those who live in the UK to keep in touch with events on Camposol and the surrounding area.
Living here is a privilege, a broad arid river valley surrounded by mountains, twenty minutes from the Mediterranean, an hours drive from Murcia Airport, the cities of Murcia, Cartagena, Lorca, the resorts of Mazarron and Aguilas. A place which has been settled from before Roman times, with the oldest boat in the world in the harbour of Mazarron.
These residents have settled here forming a very diverse community with many common interest groups and clubs. We have seen bare villas turned into palaces with magical gardens, many British owned businesses formed and developed, and the open spaces planted and tidied by the volunteer gardening groups.
There are now numerous top quality restaurants, cafes and friendly bars (one with a bowling alley) spread over the two commercial centres. There is a large supermarket (Consum) which stocks many British and International products, a builders merchant, swimming pool constructors and maintainers, WiFi suppliers, Banks, Vets, Dentists, a Medical Centre, Pharmacy, Correros, Estate Agents and even central heating installers! Basically almost everything found in a small town!
We are proud to live here amongst the Spanish people, taking part in Spanish Cultural and Political life, but able to retain our own identity. Most of us carry Spanish driving licences, have Spanish Residence cards and are learning Spanish. We enjoy our visitors, whether they are family from the UK or holiday makers.
This site contains the minutes of our committee meetings and important announcements and press releases as well as numerous other items of interest to the residents of Camposol. There is also a forum page open for discussions amongst all registered members of the CRA.
The Association is open to all homeowners of Camposol and is controlled by an elected Liaison Committee who are democratically voted in at the AGM.
Weather in Mazarron: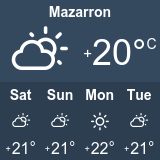 Downloads/Descargas:
Membership Form
Useful Numbers
Entity Bye-laws
Garrigues Report (English)
Garrigues Informe (Spanish)
Garrigues Report Conclusion